As I guided my Silverado slowly up under the shade of the oak trees I noticed that our favorite spot was also being enjoyed by many others on this beautiful spring day at the lake. It wasn't just picnickers, but an array of bikers, hikers, and horseback riders. A couple of retired folks were sitting on a shaded bench reading a book, and a mother, daughter team were fishing on the shoreline. Three dozen Canadian geese were making their presence known by sounds that come from their species alone.
One pair of these Canadians were proud parents showing of their 5 little goslings all swimming in a row. Birds,butterflies and a pair of big white ducks made famous by the Aflac commercials topped off those in attendance
Looking around, I realized that they all had found our little lake to be a place of peace just as Georgina and I had. We come to meditate, pray and talk about the good things that God is teaching us. It was a perfect day, all was well and nothing could hinder any of it for any of us.
After a while we begin to prepare to leave, when suddenly, the peace was shattered by a child's scream. Georgina saw where the commotion was coming from and said to me, "better go see what you can do to help". I found the mother and her two young daughters who had been walking along one of the trails were "dancing a jig"
and vocalizing in great fear. Their time of peace had been
shattered by the appearance of a
4 foot long Black Tennessee Rat Snake, (I bet just this picture of it makes some of you shudder.)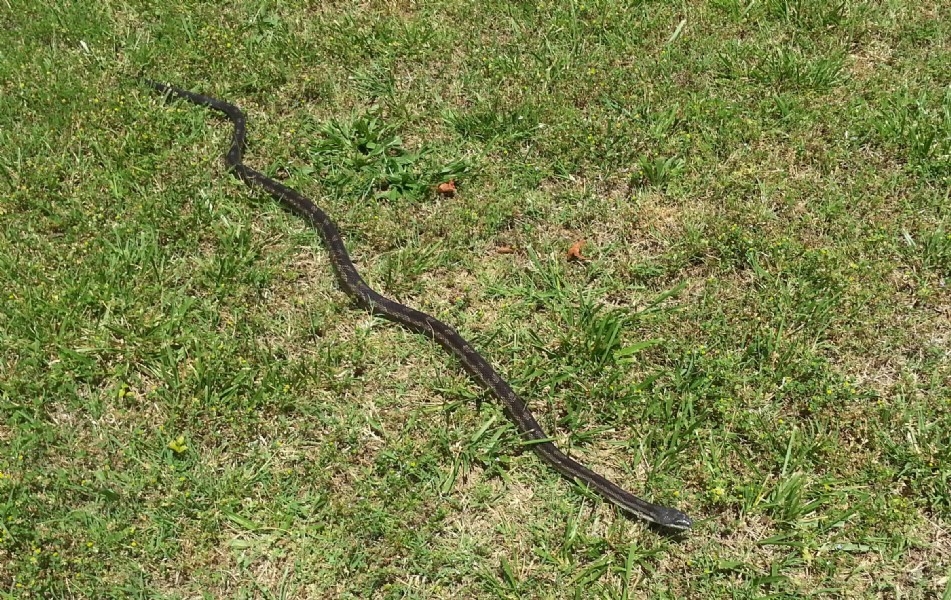 You know that is just what the enemy of our soul does to so many of us. He sneaks up on us in a time when we are thinking, "all is well - I think I've got everything under control". Then something happens, something goes wrong on the job, and you get blamed, Oh no, am I going to lose my job? Your child is no longer a child, and is involved with a crowd that makes you wonder, "Is their innocence lost?". It could be that police car in your rear view mirror, or a letter from the IRS that breaks the piece in your life and causes FEAR to raise its ugly head. I don't know what you might be experiencing that is causing that horrible feeling of FEAR to creep up into your life, breaking the peace and security that you felt yesterday, BUT I am here to tell you this - "FEAR IS A LIAR!"
When I saw what was causing such FEAR in those two little girls and their mother, I knew that this was like a trick of the devil, projecting deception which causes Fear. The SNAKE was there and so was FEAR, after all a snake is something to run from, to be afraid off, right? He wants you to afraid, be very, very afraid. But we can say with assurance, "that's NOT gonna happen on my watch!"

You see the real truth to overcoming this fear is seeing enemy as he really is. Peter portrays this in 1 Peter 5:8. ESV(©2001)
"Stay alert! Watch out for your great enemy, the devil. he prowls around like a roaring lion, looking for someone to devour."
However, I really like the New King James Version it reads like this:
"Be sober; be vigilant; because your advesary the devil walks about like a roaring lion, seeking whom he may devour."
Now the key words here are "Seeking whom he MAY Devour." Enemy of my soul, Let me make this perfectly clear... "NO YOU MAY NOT DEVOUR ME!" I said to the snake,NO YOU MAY NOT SCARE THESE KIDS, GO BACK INTO THE WOODS WHERE YOU BELONG," and you know I really think that this was just like Satan. The snake was a deceiver, his appearance alone will scare most people, but you see when I jumped down beside him, and he took off it was like he was more afraid of me than the girls were afraid of him.
FEAR IS A LIAR! A deceiver! So I say to you, Proclaim this truth, There is NO FEAR ALLOWED HERE!
Someone posted on Facebook the other night,
"When Fear knocked at my door, I sent FAITH to answer it and there was no one there!"

I say a big AMEN!
Peter says it like this:
"Resist him, steadfast in the faith, knowing that the same sufferings are experienced by your brotherhood in the world. But may the God of all grace, who called us to His eternal glory by Christ Jesus, after you have suffered a while,
(he will)
perfect, establish, strengthen, and settle you. To Him be the glory and the dominion forever and ever. Amen."
1 Peter 5:9-11 NKJV
So when Fear knocks at your door my friend, whether it is a Black Rat Snake, a letter from the IRS, or just a lie from the Devil, Send FAITH in Front of you to deal with it and it will slither away just like that snake did from me. Our Savior, Jesus said it this way:
"Jesus replied, "I tell you the truth, if you have faith and do not doubt, not only can you do what was done to the fig tree, but also you can say to this mountain, 'Go, throw yourself into the sea,' and it will be done. If you believe, you will receive whatever you ask for in prayer."
Matt 21:21-22 NIV
Remember, Jesus can help you walk in this truth - No Fear Here!
Thanks for stopping by, and feel free to drop us an email, or leave a comment below.
See you next time,
Keith
keith@touchstonesnetwork.org
This was first posted 6.74.13