Archives
Please click below to view any of the articles in our archive.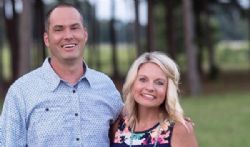 I was in a time of corporate worship and the Lord spoke this to me: "I've brought you out, I've brought you through and I'm about to bring you into."

I believe this is exactly what God is doing for His people in this hour. He has delivered us out of captivity, brought us through the fire and now, in this season, He is bringing many into their promise!

When God delivered the children of Israel out of captivity, He didn't just leave them in the wilderness. The Lord brought them out and brought them through the wilderness so that He could bring them into their Promised Land.